Positive earnings report[1]
Uber Technologies saw a sharp rise in its share price following the release of its Q1 earnings report. The ride-sharing and delivery services company posted a smaller-than-expected loss for the quarter and indicated that improving cash flows may allow for a return of capital to investors in the coming months.
For the three months ending in March, Uber reported revenue of $8.82 billion, a 29% increase from a year ago, narrowly beating analysts' expectations of $8.72 billion. Booked orders rose 19% to $31.4 billion, with ride revenue up 72% to $4.33 billion and delivery revenue up 23% to $3.09 billion. The most notable figures, however, were Uber's record cash flow, which included operating cash flow of $606 million and free cash flow of $549 million, an increase of nearly $600 million from the same period last year. That prompted CFO Nelson Chai to suggest that the company may consider a share buyback or dividend payout as its business growth progresses.
Overall, Uber's Q1 results reflect a continued trend of strong growth and profitability, which positions the company well to compete in key markets as the operating environment adjusts to a period of limited capital availability and higher interest rates. As a result of the positive earnings report, Uber's shares were up 8.6% in pre-market trading, with the shares trading at $35.56 apiece at the opening bell. *
Uber shares overview[2]
Uber shares are listed on the New York Stock Exchange. In the US, they trade under the ticker symbol "UBER". The share price is currently at USD 34.78, which seems to be an excellent entry point, as the highest price it has reached was in April 2021, when it was valued at USD 60.35 per share. * There was a fairly large decline thereafter, but the company seems to be constantly evolving and pushing for new improvements. UBER's market capitalisation is currently at USD 70.43 billion.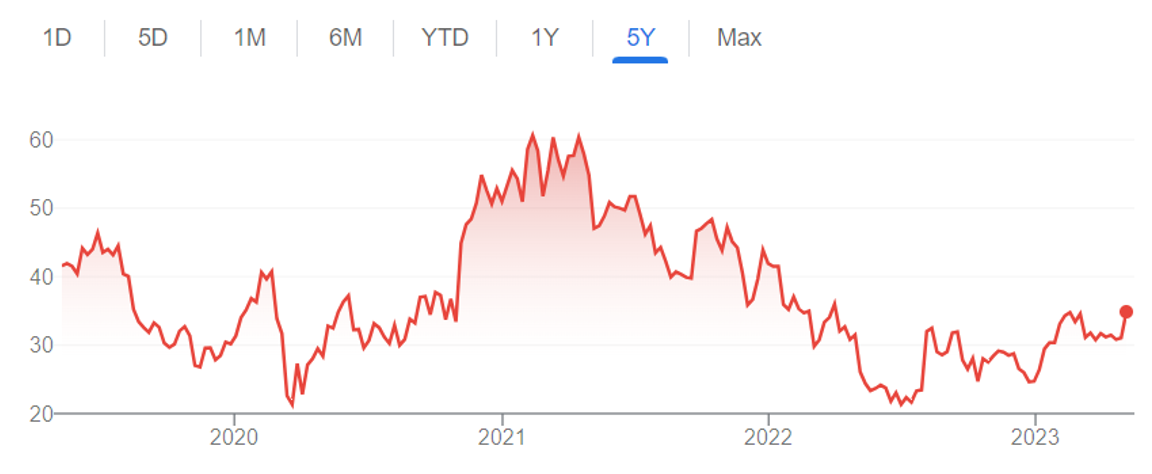 Uber's shares development over the last five years. (Source: Google Finance) *
Uber Eats announced a delivery partnership[3]
Uber has announced that it has added Little Caesars to its delivery service, Uber Eats. Thousands of Little Caesars restaurants across the U.S. have been added to the Uber Eats app, with plans to expand to all 50 states in the coming months. For the first time, Uber Eats customers will be able to have their favourite Little Caesars menu items delivered directly through the app, including the recently relaunched Pretzel Crust pizza. Uber One members will receive discounts and will not pay for delivery of select orders. Sarfraz Maredia, vice president and head of U.S. delivery at Uber, says the partnership with Little Caesars allows them to bring even more delicious products to the doors of millions of Uber Eats users. Ed Gleich, Little Caesars' chief innovation officer, says the partnership expands the brand's reach to new customers. For customers, the in-app experience will be key, where they can take advantage of Uber Eats' innovative features such as group ordering and a reorder feature for frequent orders.
Conclusion
As mentioned earlier, Uber was one of the earliest companies in the industry and thus the most experienced. Over the years, it has also successfully developed its delivery service Uber Eats. Uber Eats, as well as Uber itself, is constantly striving to improve, which is always a good sign for the company. As the market share of taxi services grows, it is important that they continuously improve to stay above the competition.
Peter Svoreň, Executive Director, APME FX
* Past results are no guarantee of future results.
---------
[1] https://www.thestreet.com/investing/stocks/uber-soars-as-ride-sharing-group-mulls-dividends-buybacks-after-record-q1-cash-flows?puc=yahoo&cm_ven=YAHOO
[2]https://www.google.com/finance/quote/UBER:NYSE
[3] https://finance.yahoo.com/news/uber-eats-announces-delivery-partnership-120000935.html