Fight for the top spot [1]
Qualcomm Inc's artificial intelligence chips surpassed Nvidia Corp in two out of three metrics for power efficiency, according to new test data released. While Nvidia dominates the market for training AI models with large data sets, after the training process, AI models are utilized for tasks like generating text responses and identifying objects, known as inference. Experts believe that the demand for data centre inference chips will increase rapidly as more companies incorporate AI technology into their products. Companies like Google are already investigating ways to manage the added expenses that come with this technology. One of the major costs is electricity, and Qualcomm has utilized its experience in designing chips for battery-powered devices, such as smartphones, to develop the Cloud AI 100 chip, which is designed to consume less power.
According to testing data published by engineering consortium MLCommons, Qualcomm's AI 100 chip performed better than Nvidia's flagship H100 chip in two out of three measures of power efficiency. The tests were based on the number of data centre server queries each chip can carry out per watt. Qualcomm's chips achieved 227.4 server queries per watt for image classification, while Nvidia's chips achieved 108.4 queries per watt. Qualcomm also outperformed Nvidia in object detection, achieving 3.8 queries per watt versus Nvidia's 2.4 queries per watt. However, in a test of natural language processing, which is commonly used in systems such as chatbots, Nvidia was the best performer in both absolute performance terms and power efficiency terms, achieving 10.8 queries per watt, while Qualcomm ranked second at 8.9 queries per watt.
Stock development Nvidia
Stocks of Nvidia are listed on Nasdaq stock exchange in USA, under the ticker "NVDA". The price of a stock is currently at 275,79 USD, which shows that price of a stock is developing nicely after a correction last year. Throughout the years, price was constantly rising and reached the top in November 2021, when the price of a stock was 325 USD. After that, correction followed, and the price of a stock fell to 120 USD but recovered nicely since. * Market capitalisation of Nvidia is currently at 680,10 billion USD. It is important to mention, that in the last two years, Nvidia also had a stock split, which is always a sign that the price is doing great.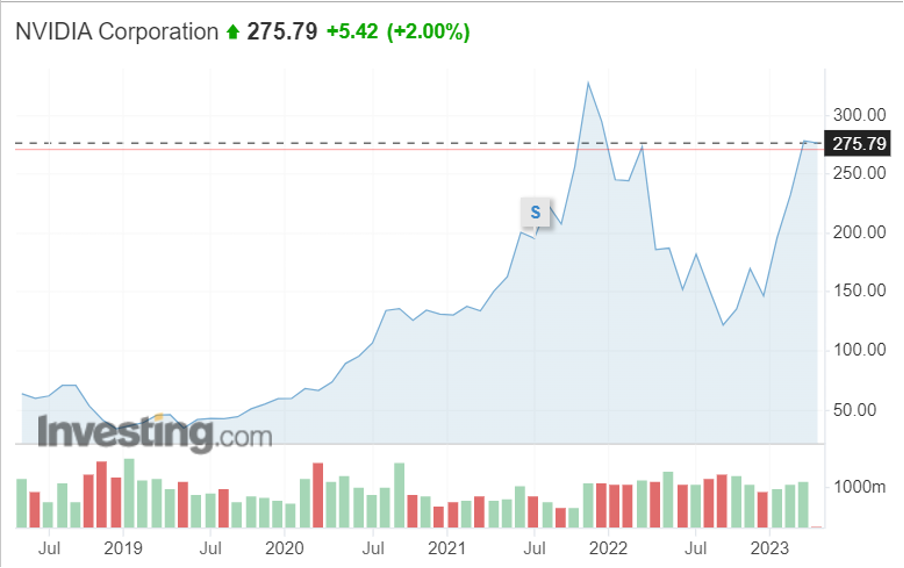 Movement of Nvidia stocks in the last five years. (Source: Investing) *
Google could be joining the race [2]
Google revealed new information about its supercomputers used for training artificial intelligence models, claiming that they are faster and more power-efficient than comparable systems from Nvidia. Google's Tensor Processing Unit (TPU) is a custom-designed chip used in over 90% of the company's AI training work. The fourth generation of the TPU was strung together with over 4,000 of the chips to create a supercomputer using Google's own optical switches for interconnection. Large language models that support technologies like Google's Bard and OpenAI's ChatGPT have grown in size, making it necessary to split them across thousands of chips that must work together for weeks or more to train the model. Google said its supercomputers allow for easy reconfiguration of chip connections, which can help avoid problems and improve performance.
Conclusion
Qualcomm's AI chips have surpassed Nvidia's in two out of three metrics for power efficiency. While Nvidia dominates the market for training AI models, Qualcomm's Cloud AI 100 chip, designed to consume less power, is attracting investors as demand for data centre inference chips increases. Google has also entered the race, claiming its supercomputers for AI training are faster and more power efficient than Nvidia's. It seems that race to the top will not be easy one, however, Nvidia is veteran in this field, so they should not have problems with some competition.
Peter Svoreň, executive director Apme FX
* Past performance is no guarantee of future results.
[1] https://www.reuters.com/technology/qualcomm-nvidia-spar-top-spot-ai-chip-efficiency-tests-2023-04-05/#:~:text=Nvidia%2C%20however%2C%20took%20the%20top,at%208.9%20queries%20per%20watt.
[2] https://finance.yahoo.com/news/google-says-ai-supercomputer-faster-000847946.html