Globalization and the effects of the COVID-19 pandemic are bringing about marked changes around the world. We started working, but also shopping from the comfort of our homes, which led to the huge development of digitization. Technology affects every area of ​​our lives. There has also been a change in the banking sector. This sector is competing with fintechs, which provide an alternative way of managing finances.
Banks are going through changes
Banks are undergoing changes not only as a result of regulations. They need to adapt to the requirements and needs of clients who, especially in the context of the COVID-19 pandemic, have begun to prefer online services. However, restructuring organizations and moving to applications or using online banking is not easy. Some institutions are adapting to the changes brought about by time quickly, others with difficulty.
European versus American market
We can see the most significant differences when we compare the American and European banking sectors. European banks remain rigid, obsolete, with high costs and a 1.5% return on equity. On the other hand, US banks are much more dynamic and progressive, with a return on capital of almost 8%. Over the past 10 years, the US banking sector has lagged only slightly behind the development of the S&P 500 index, which includes the shares of the 500 largest companies listed on the US stock exchanges. This means that investing in US banks can follow the growth of indices there.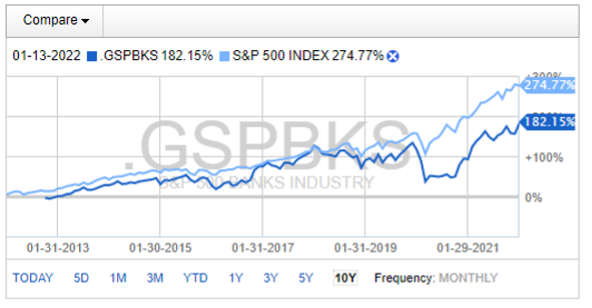 Development of the banking sector in comparison with the S&P 500 index over the last 10 years.
Source: https://eresearch.fidelity.com/
*Past performance is no guarantee of future results
The difference is mainly in consolidation, as the US banking sector shrunk 3 times in 2009-2011 compared to the European Union. This is also the reason why there are many banks in Europe with large networks and low profits. Consolidation of banks in the EU is necessary and is likely to surprise those who believe in the growth of banking stocks in the EU. Profitability is also hampered by low interest rates resulting from the economic downturn due to the pandemic.
Fintechs are coming to the fore
Many people believe that the market revolution is taking place in the form of cryptocurrencies, whose future and price stability are still unclear. In reality, however, it is fintech that is evolving and growing at a dizzying pace. Fintechs are a threat to traditional banks because they can adapt quickly to new technologies and constantly develop new ones, which are often more attractive to customers than the products offered by traditional banks. Like the advent of cryptocurrencies and the consideration of the introduction of digital currencies, they are putting pressure on banking to take advantage of innovation. This is also the reason why fintechs are probably the future of the part of the sector we know as banking.
Targets for future generations
The next Generation "Gen Z" (1996 - 2010) is the most technologically advanced. Its main communication channel is social networks. This generation knows Bitcoin, Nano-computing, NFT (non-fungible token). Fintech knows that this generation is an opportunity for their business. In the modern era of globalisation and digitalisation, the winners will be the players who understand that money management should be transparent, fast, secure and accessible to everyone with a few clicks on their phone. The most well-known fintech companies include PayPal, WISE, N26, Revolut, Skrill or Neteller.
They grow fast
Customers who use the services of such companies can receive, transfer and spend money in many countries and currencies around the world with minimal fees for providing money transfer services. For example, if we look at data released by PayPal, we can see that the company's annual revenue has risen from $ 3.5 billion in 2010 to $ 21.4 billion in 2020, an increase of 511%. The number of users increased between 2013 and 2020 from 143 million to 377 million.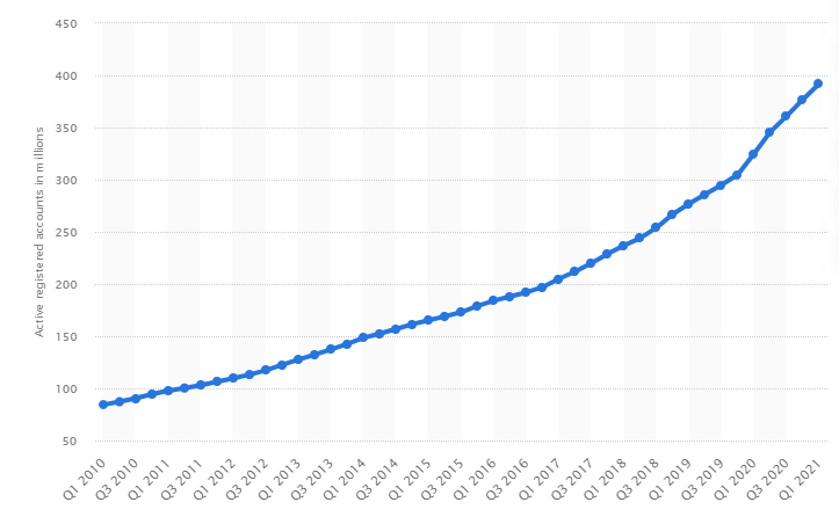 Number of active PayPal user accounts from the 1st quarter of 2010 to the 1st quarter of 2021 (in millions). Source: www.statista.com
A competitor such as Revolut generated sales of $ 310.5 million in 2020, an increase of 34 percent over the previous year. We could also see significant developments in other competing companies. According to data on the Statista.com website, the company increased its sales from 2015 to 2020 by a number of hundreds of thousands of percent, which can also be seen in the chart below.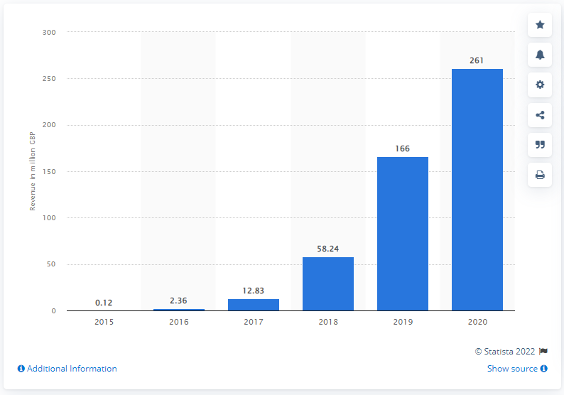 Revolut sales development from 2015 to 2020.
Source: Statista.com
Contactless payments have become a necessity
Coronavirus-related measures have redefined the needs of users who have withdrawn into their homes due to health concerns, from visiting shops and social interaction and prefer card payment over cash. This is also a factor that favours the development of Fintech. The number of digital wallet users has doubled worldwide in 2020, with Apple Pay and its 227 million users becoming the most significant, according to the Wall Street Journal. Other mobile apps through which payments can be made, such as Google Pay, Fitbit Pay or Samsung Pay, are also being developed on a large scale.
Fintech companies are showing us how banking and payments can work. They are simple, fast, user-friendly online solutions for everyone, with no branch and unnecessary costs. This is also the reason why we expect the European banking sector to await consolidation. Banks are likely to merge but go bankrupt and the market should be cleared. While US banks could copy the development of the S&P 500 index, fintechs could grow two to three times faster than the S&P 500.
Sources:
https://www.bankingsupervision.europa.eu/press/speeches/date/2021/html/ssm.sp210611~87256e1f4b.en.html
https://internationalbanker.com/banking/is-europe-about-to-experience-a-wave-of-banking-sector-consolidation/
https://eresearch.fidelity.com/eresearch/markets_sectors/sectors/industries.jhtml?tab=learn&industry=401010
https://www.businessofapps.com/data/paypal-statistics/
Contactless Payment Trends in 2020 - Apple Pay, Google Pay, NFC, and More | Host Merchant Services
https://techcrunch.com/2021/06/21/revolut-revenue-grew-by-57-in-2020/?guccounter=1&guce_referrer=aHR0cHM6Ly93d3cuZ29vZ2xlLmNvbS8&guce_referrer_sig=AQAAAG9M7jfc944KOlj5RRB1Vg2fHhXl_VeUCnl1Slb2-143GEb4-mOlhov6MpqIfH4cYlwovu7iSJQ-Sp0VRCTKies4XsIbm2yL1WQxzx2ZXsDMPQyuIwQ69yaGfuxQSjMg977irgzM6xQpWqWaBzm2X4HqhOmb2_Iak8vf0KCkoXId
Disclaimer: This analysis constitutes marketing communication and a reader should not take the content of the analysis as an investment advice or investment research or a solicitation for any transaction. OUR analyses are written for educational purposes only and represents the view of our financial analytics, who do not prepare the content of the analyses in accordance with the legal requirements designed to promote the independence of investment research. APME FX TRADING EUROPE LTD and its relevant persons do not guarantee the accuracy, validity, timeliness, or completeness of any information provided in the analyses and cannot assume any liability for any loss arising from investment based on the provided information. The past performance does not guarantee or predict future results.