The first cryptocurrency in the form of Bitcoin originated in 2008, when it was not yet clear whether it would be currency or a store of value. Today, we can say that this answer has crystallized in time itself. Despite the fact that there are more than 9,000 cryptocurrencies on the market today, according to Coinmarketcap.com, which records a database of all established and integrated cryptocurrencies, Bitcoin is the king of this market to this day and retains about a 40 percent donation.
High volatility
In October 2021, the cryptocurrency reached a new all-time high of $ 66,000, and just days later, the first ETF focused on bitcoin futures appeared in the United States. Ethereum also reached a new all-time high last year. Many investors and crypto experts expect that the price will continue to rise and that cryptocurrencies will receive general acceptance. On the other hand, we must not forget the significant price drops that we have seen in the past after the period of bitcoin growth, and which also caused the sale of other coins. Cryptocurrencies are subject to high volatility and are therefore high-risk investments.
The numbers speak for themselves
It is true that cryptocurrency payments are being accepted by more and more major companies such as Microsoft, PayPal, Tesla, Amazon, Starbucks or Visa. Meta, which owns Facebook, is even developing its own cryptocurrency, but the numbers are clear. Bitcoin transactions, which reflect the daily number of transactions recorded on the bitcoin network, reached almost 272,000 per day in the first half of January, according to ycharts.com, compared to more than 333,000 a day ago. This represents a year-on-year preparation of 18.5%. For comparison - market transactions reached the highest numbers during the crypto boom from 2017 to the beginning of 2018, while they reached the daily maximum on December 14, 2018 with a number of more than 490 thousand. The daily number of dollar transactions reached 218 earlier this year, down from the end of 2021.

Bitcoin trading volume over the last 5 years.
Source: ychart.com
* Past performance is no guarantee of future results
On the other hand, Ethereum seems to be more user-friendly than Bitcoin. Despite having the same market value, the utilization is much higher. The daily number of transactions of this coin has increased by 10% to approximately 1.2 million per day over the last year. However, it is probably not even remotely close to the number of daily transactions of payment card operators American Express, Diners / Discover, JCB, Mastercard, UnionPay and Visa, which reach the number 468.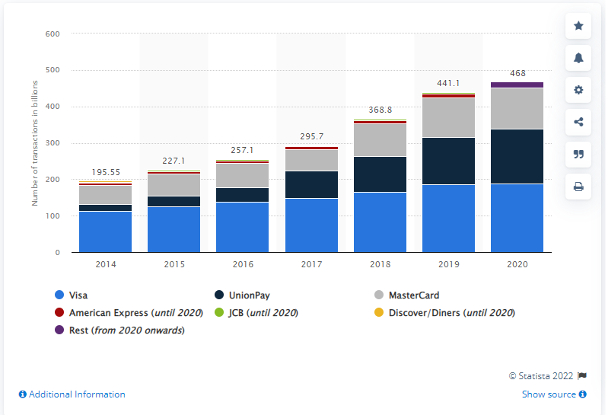 Number of daily transactions of the listed companies for 7 years.
Source Statista.com
Comparison with the forex market
The forex market alone trades daily for about 6.5 billion, which is an incomparably higher number than Bitcoin or Ethereum can generate. Bitcoin's trading volume reaches around 40 million per day, with the entire cryptocurrency market reaching its highest daily trading volume on May 19, 2021, when it reached 500 million.
The number of cryptocurrency thefts is growing
Like any new technology, cryptocurrencies have their weaknesses that can be exploited to the advantage of hackers. The group's report, issued in October 2020, shows that while cryptocurrencies have undeniable benefits, they are important for a major role in cybercrime and transnational crime. Therefore, investors should be careful about their coins and be vigilant if someone asks them for personal information about online crypto wallets. Cryptrace Intelligence's CipherTrace data found that more than $ 4.5 billion in cryptocurrencies were lost in 2019 due to theft or fraud. The good news is that by 2020, that number had dropped to 1.9 billion. Despite the fact that the total value of cryptocrime decreased, the theft of cryptocurrencies jumped by 40% year-on-year and reached the volume of 513 million. However, it is still less than the record 950 million in 2018.
Risk in the form of regulations
A number of entities have decided to hold their assets in the crypto segment and thus protect them from the expansionary monetary policy of central banks. Although the money laundering and current rise in inflation play in favour of rising cryptocurrency values, their potential regulation appears to be risky. The US Treasury Secretary Steven Mnuchin, who wants the crypto exchange office to obtain personal data about the recipients of transactions and also tries to limit the use of so-called smart contracts with corporations, is outgoing at the end of the year. Therefore, the future regulation of cryptocurrencies will largely depend on the attitude of his successor. Although cryptocurrencies are not supported in some countries, analysts believe that Biden et al. will seek to support the development of new technology and thus contribute to US competitiveness in this area.
For these reasons, while cryptocurrencies can be an interesting diversification of an investor's portfolio, they certainly cannot replace the classic asset class, which is well-established, regulated in the market and cannot become an easy target for fraudsters and hackers.
Sources:
https://coinmarketcap.com/all/views/all/
https://www.securitymagazine.com/articles/94627-19b-in-crypto-currency-stolen-by-hackers-last-year
Bitcoin Transactions Per Day (ycharts.com)
Bitcoin Output Volume Per Day Chart (USD) - Bitcoin Visuals
• Money market daily volume 2001-2019 | Statista
https://ycharts.com/indicators/ethereum_transactions_per_day
Bitcoin Trading Volume Chart - Bitcoin Visuals
• Crypto volume per day 2019-2021 | Statista
Disclaimer: This analysis constitutes marketing communication and a reader should not take the content of the analysis as an investment advice or investment research or a solicitation for any transaction. OUR analyses are written for educational purposes only and represents the view of our financial analytics, who do not prepare the content of the analyses in accordance with the legal requirements designed to promote the independence of investment research. APME FX TRADING EUROPE LTD and its relevant persons do not guarantee the accuracy, validity, timeliness, or completeness of any information provided in the analyses and cannot assume any liability for any loss arising from investment based on the provided information. The past performance does not guarantee or predict future results.