Apple will unveil their AR/VR mixed reality headset
Reports suggest that Apple is planning to launch its highly anticipated mixed reality (AR/VR) headset at the Worldwide Developers Conference (WWDC) in June. To ensure the success of the launch and encourage user adoption, the company is developing dedicated apps for sports, gaming, wellness, and collaboration. The headset will allow users to access existing App Store content through its 3D interface by adapting iPad apps. Core Apple apps, such as Safari, Calendar, Contacts, Home, Files, Messages, Notes, Photos, Music, and Reminders, will also be optimized for the device. Users will be able to run multiple apps simultaneously and utilize a geolocation feature to swap between apps when moving to different rooms.
The headset will have a Fitness+ app to provide immersive exercise experiences with Fitness+ instructors in a virtual reality setting and a Health app to guide users through meditation using graphics, sounds, and voice-overs. Additionally, Apple will focus on providing immersive viewing experiences for Major League Baseball (MLB) and Major League Soccer (MLS) content and will develop a dedicated TV app for watching videos in virtual reality environments. The device will have a dedicated FaceTime experience that uses Memoji-like avatars and virtual meeting rooms, a Books app for reading in virtual reality, a Camera app for capturing images using the headset's cameras, and a 3D interface adaptation of Freeform for collaborative projects.[1]
Apple stock overview
Apple's stocks are listed on Nasdaq Stock Exchange. When they came to the market in 1983, the price was only 0,25 USD. The price never broke the 1 USD mark, until 2005. 2 years before the iPhone was released. Since then, company showed promising growth, and their stocks managed to grow for more than 68,000%. Currently, the price for a stock is 172,07 USD, which is very close to its all-time high at 180 USD. However, if we check long term chart of their stocks, we can see nice constant growth. It seems that for long term investors, this could be an interesting pick. * [2]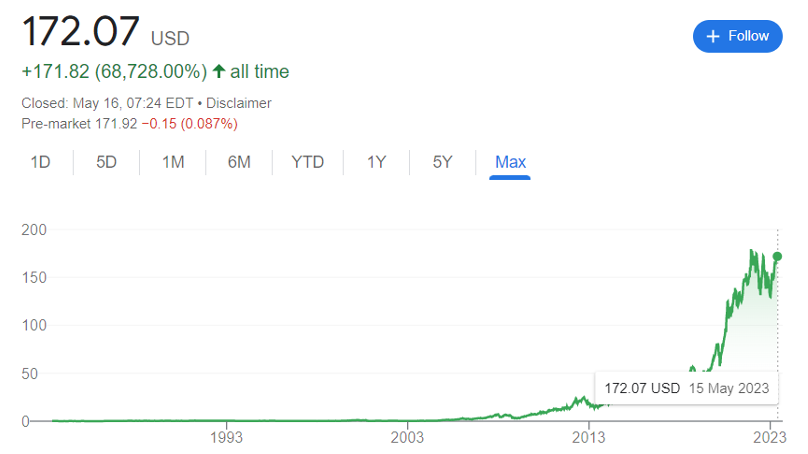 Movement of Apple stocks since coming to the market. (Source: Google Finance) *
Apple plans to open their first online shop in Vietnam
Apple has announced that it will launch its first online store in Vietnam on 18th of May, as part of its push into emerging markets to boost growth. The move follows the recent openings of the company's first retail stores in India, and CEO Tim Cook is reportedly looking to emerging markets for further growth opportunities. Vietnam has a population of 100 million people, and the company has not yet announced plans for physical retail stores in the country. Apple already sells products in Vietnam through licensed vendors and has several suppliers that assemble its gadgets in the country for export. The company opened its first online store in India in 2020. [3]
Conclusion
Apple is set to release its much-awaited AR/VR mixed reality headset at the Worldwide Developers Conference in June, which will feature dedicated apps for sports, gaming, wellness, and collaboration. Apple will also offer immersive experiences for Fitness+ and Health apps and develop immersive viewing experiences for MLB and MLS content. Apple stocks are trading at 172.07 USD, close to its all-time high of 180 USD, and the company plans to open its first online store in Vietnam to expand into emerging markets. All of these things combined show, that company has great future plans and is intending to continue with development. That is why it makes it an interesting pick. [1]
Peter Svoreň, executive director of APME FX
* Past performance is no guarantee of future results.
[1] Forward-looking statements are based on assumptions and current expectations, which may be inaccurate, or based on the current economic environment which is subject to change. Such statements are not guaranteeing of future performance. They involve risks and other uncertainties which are difficult to predict. Results could differ materially from those expressed or implied in any forward-looking statements.
-------------
[1] https://www.bigtechwire.com/2023/04/19/apple-gears-up-to-unveil-ar-vr-mixed-reality-headset-at-wwdc-in-june-with-dedicated-app-experiences/
[2]https://www.google.com/finance/quote/AAPL:NASDAQ
[3] https://www.investing.com/news/economy/apple-to-open-first-online-shop-in-vietnam-in-a-push-to-emerging-market-3080793