How are the company's shares reacting?
On April 18, 2023, Alibaba gained in share price after news emerged that the Chinese government has eased pressure on Ant Group, a subsidiary of Alibaba.* Regulatory pressure on Ant Group, which mainly deals in financial-technology services, has been a major concern for Alibaba's investors, and this news could have a positive impact on the company's future performance.[1]
In addition to regulatory pressure, Alibaba is facing increasing competition from both local and global e-commerce players. The company's revenue growth rate has slowed in recent quarters, causing concern among investors. Alibaba is trying to diversify its revenue sources by investing in areas such as cloud computing, digital media and entertainment.
Alibaba's financial performance has remained strong, despite the challenges the company has faced. In the last fiscal year, the company reported revenue of CNY 717.3 billion ($111.5 billion), up 30% from the previous year. The company's net profit also rose 24% year-on-year to CNY 156.0 billion ($24.2 billion).
Diversification is key
Alibaba's cloud computing business has been a bright spot for the company, with revenue from that area growing 50% year-on-year in the last fiscal year. The company's cloud computing business is well positioned to take advantage of the surge in demand for cloud services, especially in the Asia-Pacific region.
Overall, although Alibaba faces regulatory pressures and increasing competition, the company's financial performance remains strong and its diversification efforts could position it for long-term growth.
Conclusion
Alibaba is one of the largest Internet companies in the world and a dominant force in e-commerce in China. It has also expanded its business into other areas such as cloud services, digital marketing, logistics and payment solutions. Following the news of the easing of regulatory pressure on Ant Group, which belongs to the Alibaba group, it seems that the company will be able to focus more on growing its business and innovating in the fintech sector. Given its dominant market position and growing interest in e-commerce and digital services, Alibaba has the potential for further growth. Nevertheless, there are also risks, such as competition, regulatory changes or the deteriorating economic situation in China. Overall, Alibaba has a strong market footing and is successfully adapting to changing trends and conditions in e-commerce and digital services. Therefore, it is regarded as one of the significant companies with great potential for future growth and success in the market.
Investment opportunities
The shares of the company are currently in a correction stage. Overall, the company's shares have lost approximately 70% from their peak value.* This number may seem overly negative, but it is important to note that the prices of companies' shares and their actual, fundamental value are not fully correlated. For an investor who has evaluated, accepted the risks, and sees the potential to buy, this downturn is a good buying opportunity. [2]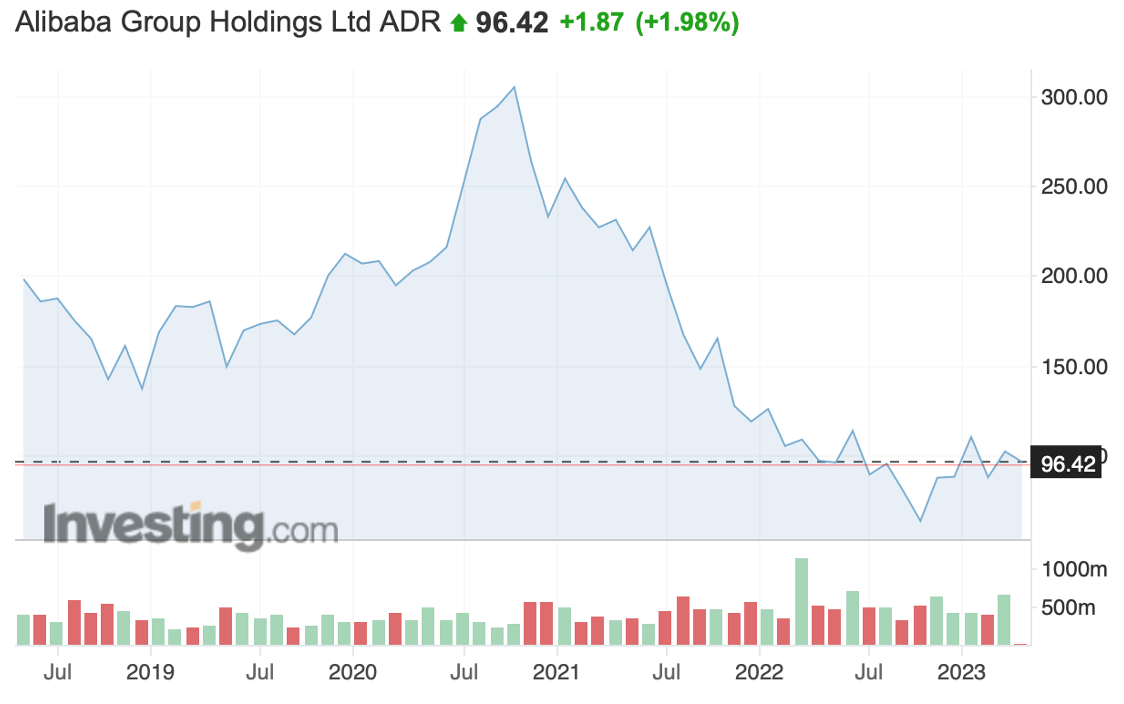 Chart 1 Development of Alibaba's share price over five years (source: Investing.com) *
-----------
Commentary by ApmeFX Chief Analyst Peter Svoreň
* Past performance is no guarantee of future results.
[1,2] Forward-looking statements are based on assumptions and current expectations, which may be inaccurate, or on the current economic environment, which may change. Such statements are not guarantees of future performance. They involve risks and other uncertainties that are difficult to predict. Results may differ materially from those expressed or implied by any forward-looking statements.